by on January 13, 2012
Does your city or region abroad have a street, school or library named after Martin Luther King, Jr.?
While people across the United States will be commemorating Martin Luther King, Jr. Day on Monday, January 16th this year, a group of overseas U.S. citizens will be reporting how Dr. King is honored in cities and countries outside the United States.
From a statue at Westminster Abbey in London, to parks, schools, roads or humble streets dedicated to him on every continent of the world, the tributes to Martin Luther King, Jr. found abroad are moving and number more than you might expect.
The first results of the team's research are listed below, but the collection of pictures and descriptions will be an online work-in-progress that we invite you to join. Please send your pictures and information to youth@overseasvotefoundation.org and we will add them as they come in.
This project is an initiative founded and coordinated by staff and volunteers of Overseas Vote Foundation (OVF).
The Martin Luther King Jr. Mural, Newtown
(an Inner West suburb of Sydney), Australia
Nick Marshall
When I was doing some work in January at the large teaching hospital near King Street in Newtown, I took a 10 minute walk over to it to take this photograph of The Martin Luther King Jr. Mural for the Youth Vote Overseas project honoring Dr. King's birthday.
The mural was not created in the 1960s as one might expect; it was designed and painted in August 1991 by Andrew Aiken, Juilee Pryor and other members of the Unmitigated Audacity Productions. Although it was damaged in a fire last year and the lower part of the painting painted over multiple times, the upper part of the mural with a portrait of Dr. King, the quotation "I have a dream" in Gothic lettering, an excerpt from Genesis, and the picture of the earth as seen from space are still fairly well intact.
According to Wikipedia, originally there was a raised flower bed at its base; but once it was cleared away, the group of painted figures looking up at Dr. King at the bottom of the mural were painted over several times sometimes by Aiken and sometimes defaced by others – often with racist graffiti which Aiken and Pryor in turn painted over with anti-racist slogans. But since the Aboriginal flag was added (no one knows exactly when or by whom) it has remained as pictured here.
Boulevard Martin Luther King, Nantes, France
Clair Whitmer
In Nantes, Boulevard Martin Luther King is on the outskirts of town, named as the city expanded outward into what was fairly recently fields and farms. It joins Boulevard Albert Einstein and Boulevard Capitaine Dreyfus at a roundabout, a kind of a Roundabout of Role Models: no matter what direction you go, you are reminded of someone brave and unique. (See Boulevard Martin Luther King on Google Maps.) What is especially poignant about finding this street in Nantes is that this city was once a key port in the "triangular commerce", or slavery route, from Africa to the New World. While France itself did not allow its own citizens to own slaves, many Nantais merchants played middlemen and slavery helped make Nantes a rich city during that period. The city has long been ashamed of this fact. While the city honored Martin Luther King by naming a suburban boulevard after him, what might have pleased him more is the monument being built now -- downtown, next to the port -- to the victims of the slave trade.
Mayor Rob Ford, on behalf of Toronto City Council, proclaims January 16, 2012 as "Martin Luther King, Jr. Day," Toronto, Canada
Bettina Hoar
While researching how Martin Luther King, Jr.'s life's work is celebrated in my adopted town of Toronto, Ontario, Canada, this OVF volunteer called the Mayor of Toronto's office to confirm if the day would, as in the past, be proclaimed as "Martin Luther King, Jr. Day". The call was propitious; no one had made the official request and there was still time to do it. Thanks to OVF's initiation of this project, therefore, this year MLK Jr. Day has once again officially been proclaimed in Toronto.
In the Toronto District School Board (TDSB), Canada's largest school board (and one of the largest in North America) schools celebrated the work of MLK Jr. through a variety of activities that "help create a world in which all human beings are free and equal in dignity and in rights". Yesterday [January 16th] nearly 3,000 TDSB students, staff and musicians gathered at Toronto's Roy Thomson Hall to celebrate King's life. The two-hour Keeping the Dream Alive (KTDA) concert featured hundreds of students from many schools. The show brought King's honourable ideals and goals to life. For students born long after Dr. King's assassination in 1968, it was an inspiring day.
Martin-Luther-King-Park, Vienna, Austria
Suzanne Preston
I do not have a photo but there is a Martin Luther King Park in Vienna in the 10th district. (You can see it on Google Maps.)
Westminster Abbey, London, England
Susan Owen
A statue of modern-day martyr Martin Luther King, Jr. was unveiled in July 1998, standing above the west entrance to Westminster Abbey in London. The sculptor was Tim Crawley. Both of these images are copyrighted; we have been allowed to use them by kind permission of the Dean and Chapter of Westminster.
Martin Luther King Park, Paris, France
Razing a disused rail station and rehabilitating
some 25 acres of blighted urban landscape in this city's working-class, northwestern 17th district, Paris began construction of the Martin Luther King Park in 2000. In 2008, Mayor Bertrand Delanoë inaugurated the first section of the park. Dr. King's personal advisor, Clarence B. Jones, was in attendance to commemorate the 40th anniversary of Dr. King's tragic assassination.
While construction will continue until 2017, the park—designed to be
environmentally sustainable—already boasts a pond, skatepark, basketball court, tennis courts, and playground, as well as an American style windmill, which helps to regulate the park's water supply.
Reverend King preached for the first time in Paris on October 24, 1965, less than a year after becoming the youngest winner of the Nobel Peace Prize, to an overflow crowd of enthralled admirers at the American Church on the Seine's Left Bank.
Photos: Top - Fruit trees were already in bloom, in Paris's unseasonably mild winter weather, on a recent January day. Bottom - An American style windmill on the Paris skyline helps regulate the park's water supply.
The Martin Luther King Jr. Forest, Israel
Andee Goldman
In 1976, the Martin Luther King Jr. Forest was launched in memory of the slain civil rights leader. Thirty-nine trees were ceremoniously planted in the southern Galilee, each symbolizing a year of his life; today, the forest boasts trees numbering in the thousands.
At a ceremony held in 2006 at the Faith Tabernacle United Holy Church near the Capitol for the founding of the Coretta Scott King Forest in Biriya to be planted by the Jewish National Fund, Ambassador Sallai Meridor, who was inspired by the Kings as a young child in Israel, said: "They made the world a better place, and we think [they] made all of us better human beings."
Since I do not live nearby, I could not take pictures of either forest. Perhaps someone who reads this can take some photos and send them in!
What I find amazing is how one man touched so many people of different cultures and religions around the world.
Martin Luther King, Jr. in Berlin, Germany in 1964
Marina Mecl
In September 1964, the year I moved to Germany, Martin Luther King, Jr. had been invited by Berlin's mayor, Willy Brandt, to speak at a ceremony in Schöneberg City Hall to commemorate the assassinated John F. Kennedy, who had spoken in Berlin in the same place in 1963. Afterwards, he went on to speak to more than 20,000 people in the Waldbühne amphitheater and followed up on his intention to speak in East Berlin. Despite not having a passport – the U.S. State Department had confiscated it in order to hinder his visit to East Berlin – he crossed Checkpoint Charlie using his American Express credit card as identification to enter East Berlin, where he offered an ecumenical service in the historical Marienkirche (constructed between the 12th and 14th Century.) See also Gladys Cagle Pieniazek's entry.
Although information about his visit had spread only by word of mouth, at least 1,000 people crowded into the church.
The large number of young people was especially noticeable. Unable to accommodate the throngs of people waiting outside, the doors had to be closed. That same night, another service was
spontaneously arranged at the Sophienkirche. His sermon was the same as the one he had given in Western Berlin, yet his words fell on the hearts of the audience in the former German Democratic Republic with particular poignancy: "Here on either side of the Wall are God's children and no man-made barrier can obliterate that fact."
Now, after living here over forty years, I notice that almost every large city, as well as numerous smaller cities, in former East and West Germany has a Martin Luther King, Jr. Street, Square, Way or School to honor his life and teachings. In fact, Germany may have the largest number of schools and streets named after him than in any other country outside of the United States.
Marienkirche, Berlin
Gladys Cagle Pieniazek
Despite being located in one of Berlin's busiest tourist areas,
surrounded by endless shopping possibilities and daunted by one of the world largest radio towers, the Marienkirche has maintained it tranquil beauty and welcoming peacefulness.
The simplicity of the church's brick structure highlights its history of defiance and refusal to surrender, or be conquered. The combination of strength and style made it the perfect location for Martin Luther King, Jr. to deliver a sermon in former East Berlin.
Martin Luther Weg in Olympic Park, Munich, Germany
Marina Mecl
The 60-meter high Olympiaberg (Olympia Mountain) is one of three Schuttberge (rubble
mountains) in Munich created from the war rubble dumped there between 1947 and 1958. It is often referred to simply as the Schuttberg. The Martin Luther King Weg (Martin Luther King Way) winds up both sides of the mountain to the peak where there is a beautiful view of Olympia Park, the city, and even the Alps on a nice, clear day. There is a simple aluminum cross and
memorial to the civilian casualties in WWII at the top, too.
When I bike around it, it always makes me happy to know that the path dedicated to Martin Luther King, Jr. is so beautiful and symbolizes a new, better chapter for Munich built over the rubble of the ugly past.
Photos: Marina Mecl
Via Martin Luther King, Naples, Italy
Ferruccio
Via Martin Luther King is in the S. Carlo all'Arena quarter of Naples.
It is an old historical quarter where the royal botanical garden (XVIII C.) and the veterinary school of the university are located, but in the last sixty years, the quarter has become somewhat run down and the street itself rather sad looking. A very polite woman told me that it was dedicated to Martin Luther King, Jr. in 1980, after the earthquake in November of the same year.
It is interesting to note that several cities in Italy have streets or squares named after Martin Luther King, Jr. -- Bologna, Burago di Molgora, Belvedere/Grado, Colorno, Lamezia, Montecchio Maggiore to name just a few!
Place Martin Luther King, Anderlecht, Brussels
Tova
There is a Place Martin Luther King in Anderlecht, Brussels that looks quite pretty on Google Maps; but, although we live in Brussels, unfortunately it is too far away for us to go there and photograph it.
قصة مونتجمري, Cairo, Egypt
Michael Casey Bonfield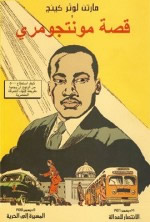 The above image is from the cover page of Dalia Ziada's Arabic translation of "Martin Luther King and The Montgomery Story," a comic book originally published in 1958 by the Fellowship of Reconciliation, re-published in 2008 by the American Islamic Congress (AIC). It relates the story of the Montgomery Bus Boycott and also contains a section called "how the Montgomery Method works," which outlines techniques of nonviolent political action.
Ms Ziada's Arabic translation was credited by NPR, The Washington Post, and other major news outlets with "helping spark nonviolent activism during the Arab Spring" a year ago. In addition to her translation work, Ms Ziada also had to overcome resistance from Egyptian censors to print and distribute the comic book in Cairo. For more information, see the AIC website.
Martin Luther King Complex, Annemasse, Haute-Savoie, France
Dorothy van Schooneveld
The original Martin Luther King hall was opened to the public in 1987.
It was the first construction in Annemasse specifically dedicated for the use of public gatherings. The main hall is used for fairs, shows and exhibitions. One wing contains a conference room and municipal space, and the other is devoted to local associations.
Piazza Martin Luther King, Borgo San Lorenzo, Italy
Bari Hochwald
There is a square named after Martin Luther King in a modern part of Borgo San Lorenzo, a beautiful little city about 20 kilometers from Florence nestled in the Tuscan hills of Mugello from where the Medici family and the painters Giotto and Fra Angelico originate.
Photo: View of Borgo San Lorenzo and surrounding area. With kind permission from the Ufficio Relazioni con il Pubblico del Comune di Borgo San Lorenzo.